Today we're talking with the one and only, Eli Cox, founder of Berkeley Supply in Denver, Colorado USA.

Can you give 50 BUILT readers some background on yourselves and the events that lead up to starting Berkeley Supply?
I think I was just fucking sick of having to fly to places like Portland, SF, NYC, LA, or Boston just to find quality menswear, when in those towns for visits. If I wasn't doing that, I was ordering everything online, which when it comes to this type of clothing, it can be hard, you want to be able to try things on. I had been talking about doing a shop like this for a few years, we were sitting around Pearl Velo one night drinking beers, and we came up with this idea to give me the 165 sq feet of frontage that was connected to Pearl Velo and Avery County Cycles. Here I sit.
What's a brief overview of Berkeley Supply, employees, location?
As I mentioned before, this is a small small small space. The Company sits in a 165 sq foot hole-in-the-wall on the corner of 43rd and Tennyson in the Historic Berkeley District of Denver's Highlands. The only employee is me and sometimes a dog. I carry a number of fantastic American made Lines. They are – Red Wing Heritage, Rogue Territory, Tanner Goods, Frost River, Taylor Stitch, Filson, The West Is Dead, Ball & Buck, Topo Designs, Stormy Kromer, Tellason, Imogene + Willie, Wolverine 1000 Mile, Freeman Seattle. Left Field, Strawfoot Handmade, Umble & CO, Winter Session, and I am always in talks with others.
Berkeley Supply has decided to set up a brick & mortar shop, something that's becoming more rare in today's retail world. How does having a physical shop benefit your business and authenticity?
I think having a brick & mortar really helps because people feel like they actually have someplace to go, not just the Internet. Yeah, at some point I am sure Berkeley Supply will have some form of online shop, but for now, I am loving the fact that I am just brick and mortar. I think I'm giving something that currently Denver can call its own. I do ship things to people who email me, but you would be surprised how few people understand they can actually pick up a phone and call me. I'll chat with you and send you stuff. I'm sure I miss out of a ton of business by currently just having a brick & mortar, but honestly? I'm cool with that.
What are some of the challenges, specifically with your Made in USA inventory, that have some with owing a physical shop.
The biggest challenge I have found with focusing exclusively on American made goods is that I have to say no or turn down so many awesome brands that I love and respect. However, at the end of the day, I sell only product made in the USA, and I am super proud of that. I wouldn't have it any other way.
How has the city of Denver embraced your shop and mission? It must be a real benefit to be a part of a community and meet people, in person.
I wouldn't want this shop anywhere else in the entire would. I love Denver; I love the fact that I have been able to bring a shop like this to Denver. The people of this city have been incredibly supportive of me and my vision. If you go to any other major city, you can't swing a cat without hitting two shops like this. I'm no visionary. I just saw a void here in Denver, and I filled it. Being able to sit in my shop every day and chat with people is one of the most rewarding parts of my day. It doesn't matter if they buy something or just come in and chat with me for 20 minutes, it's about building relationships, getting to know others, and being a part of something here in the Berkeley community.
What has the reception been thus far to your collection from the companies you have been representing?
From what I have been able to tell, people are stoked on it. I think people are stoked that they can finally get these types of items in Denver. People have been starved for this kind of thing for a long time.
Any good stories or relationships from the time you've been working with these American Made companies?
I could easily tell an amazing story about every single brand I carry. Everyone has been super rad to work with. The best part about these companies is how incredibly supportive they have all been. Whatever I need from them, they continue to deliver, time and time again. I am incredibly honored to be the guy who gets to represent them here in Denver.
What is the process/criteria for selecting the brands you work with and feature?
My process for selecting brands has always been super simple. Is it made in the US, have I personally had a great experience or has someone who I trust personally had a great experience with a particular product? If the answer is no to either of these questions, it does not enter my shop.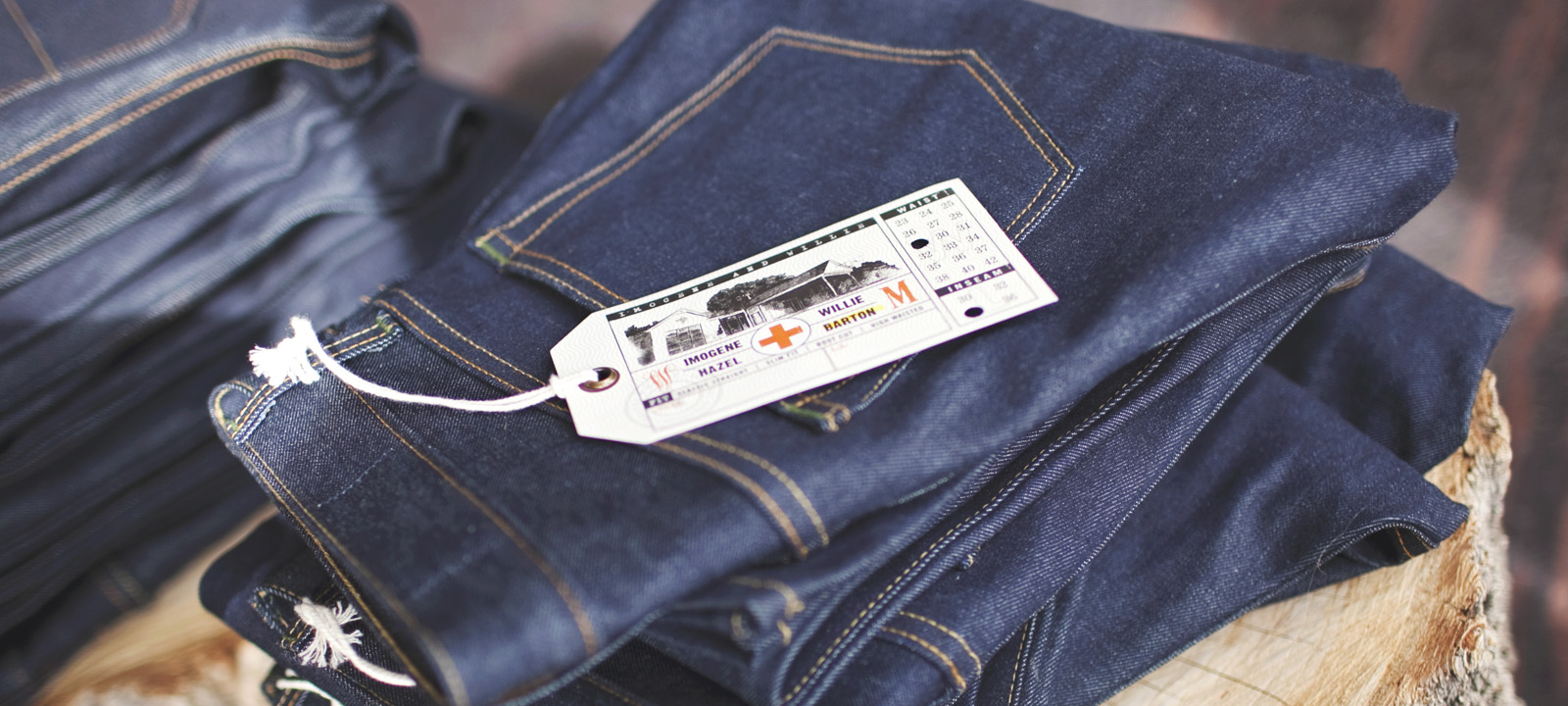 Are you producing a Berkeley Supply line of goods as well?
Other than branded t-shirts, not really. I would love to at some point, it's for sure in the five year plan.
Why is it so important for Berkeley Supply to market the fact that they sell 'American Made?'
Berkeley Supply, being an exclusive made in the USA shop, is extremely important to me. Not only does it set my shop apart from all of the rest, but also it has a much bigger picture in mind. This country was built on American manufacturing, something that has been lost over the years. To make this country as strong as it once was takes people with a vision for American manufacturing. I'm just trying to bring that final product to market and put in peoples hands.
What does that message send to the consumer and do you foresee it influencing their decision when making a purchase?
I hope it does, if people are spending 125 bucks on shirts made in China or 200-plus dollar denim that is made in China or wherever, there is no reason that same $125 or $200 can't be spent on something that is twice the product AND made in the USA. Being conscious of where your money goes is super important.
How do you get the message across to the consumer?
Social media, specifically Instagram, has been hugely successful for my shop. I have also had a lot of support from the local media, which has been great.
If you could tell our readers one factor that is the greatest threat or advantage to keeping things made in America, and allowing companies like Berkeley Supply and the brands you represent to succeed, what would it be?
The greatest threat is Greed, Fuck Greed.
Thanks for your time, passion and input Eli. Can't wait to make it out to Berkeley Supply next time we're in Denver!